Wey Valley Riding Club Dressage – June 2017
On Wednesday 21st June 2017, on one of the hottest days of the year, it was Crystal and Dublin's turn to go out and compete. Crystal entered the last of the evening dressage series organised by Wey Valley Riding Club held at Highbrook Stables, nice and local!
Thankfully the organisers allowed the competitors to ride without jackets, as it was so very hot!
Crystal entered 2 classes, Prelim 12 and Novice 27. It was another very successful evening with Crystal and Dublin coming 2nd in Prelim 12 and 4th in Novice 27. An excellent result considering the last time Crystal and Dublin competed in a dressage competition was about 5 years ago. It was great to see them out there inspiring some of our pony club members who came along to watch and support them.
Note to all our PC Members – have a good look at Crystal's salute. This is how Halt. Immobility. Salute. is properly done!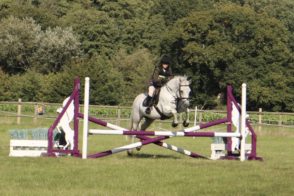 HAMPSHIRE HUNT TETRATHALON
Well done to Team G.E.C on the final stage of their Tetrathalon. To find out more and see the photos click here.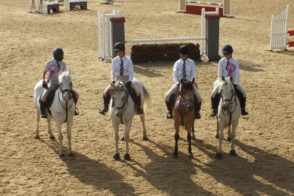 TEAM PONY CLUB JUMPING COMPETITION
What a wonderful day team Pony Club Show Jumping at Hickstead. To find out more and see the photos click here.